Chef Silvio prepares a traditional Christmas Eve dish on WTNH-TV

---
Busy?  On the Go?  No Problem!


For your convenience we are offering "Take Out Dinners" at Cafe Allegre!  Let Chef Silvio prepare his delicious cuisine for you and enjoy it in the privacy of your own home.

View our Dinner Menu

We offer Chef Silvio's Food-Trays To-Go @ thewoodwinds.com View To Go Menu
---

www.rickrothwell.com

Governor Dan Malloy with Chef Silvio at WoodWinds in Branford during the Saint Martin de Porres Academy event: A school that truly transforms lives.
Read more here.
---
TV journalist and author, Joan Lunden, with Chef Silvio.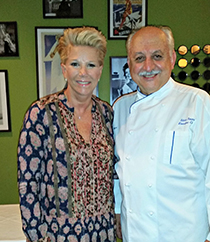 Joan enjoyed dinner at Cafe Allegre prior to her book signing at RJ Julia's. Lovely woman and an honor to have her dining with us!
---
American Idol winner, Nick Fradiani,

held his WKCI radio event at WoodWinds.  We wish him a long, successful career!

---
We're in the spotlight! Madison Patch
Madison Small Business Spotlight: Cafe Allegre
Our small business series shines a light on local business owners in the community.
Read more here
---

Oscar, Grammy, Golden Globe winner, Paul Williams, loved my Sunday Sauce and took a jar home to enjoy.
---
Story featuring Chef Silvio
---
Chef Silvio with Dallas Cowboys, Tony Dorsett, at Café Allegre. 


Tony was with the Cowboys for 10 years and is a member of the Pro Football Hall of Fame and the College Football Hall of Fame.  He loved his dinner and his book!
---
---
Look who was in my kitchen cooking with me!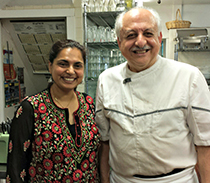 Food Network's Celebrity Chef, Maneet Chauhan! A wonderful chef, lovely woman with a huge heart. We raised money for a very worthy cause.
---
Gateway Community College Event

---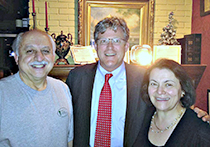 Ted Kennedy Jr., the son of the late Democratic MA Senator Edward M. Kennedy, who recently declared his candidacy for a seat in the Connecticut Senate, enjoyed dinner at Cafe Allegre and some great conversation too with Silvio & Vittoria.
---
Connecticut Food Association Awards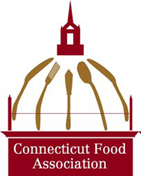 2014
The Connecticut Food Association awarded Chef Silvio's Sauces 2 out of 3 top awards! 
1st Place - Chef Silvio's Capricciosa Sauce
3rd Place - Chef Silvio's Sunday Sauce

2013
Specialty Food Association for 2013
Chef Silvio's Fra Diavolo Sauce
Voted #1 in CT by the Connecticut


Connecticut Food Association for 2013
Chef Silvio's Capricciosa Sauce
wins First Place!
2012
Connecticut Food Association's Specialty Food Product Awards Competition for 2012 has awarded Chef Silvio's Capricciosa Sauce the First Place winner!
---
Cafe Allegre once again scores a perfect 100 with the Madison Department of Public Health! 
We offer you the freshest, authentic Mediterranean foods in the cleanest restaurant too! 
---
New Haven Register


Thanks for the Shrimp Marinara, Chef Silvio of Cafe Allegre in Madison!

---


Chef Silvio sweeps the Dallas, TX Awards for this sauces and also wins in the best packaging for his trio of sauces!




Word is spreading nationwide that Silvio's sauces are simply the best! It's all natural and the taste is incomparable. It's truly homemade by Chef Silvio!
---


Café Allegre received high scores from Zagat!
| | | | |
| --- | --- | --- | --- |
| Food | Décor | Service | Cost |
| 23 | 22 | 24 | $40 |
---


Connecticut Restaurants
2012/1213
"Professional, friendly service from a staff that tries hard is the hallmark of this classy, well-run Italian restaurant in downtown Madison, whose solid menu of consistently great traditional Italian cuisine offers good value; the atmosphere is formal and quiet in the timeless-classic dining room, white things are jumpin' at the more casual bar.
---


Café Allegre receives the 2011 "Business of the Year" award from the Madison Chamber of Commerce!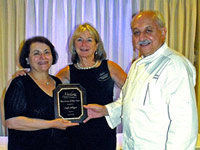 Owners Vittoria and Silvio Suppa with executive director, Eileen Banisch.
---
For Holiday & Special Events please visit ...
Cafe Allegre
www.cafeallegre.com
The WoodWinds
www.thewoodwinds.com


---
To book Chef Silvio for Book Signings, Speaking Engagements & Cooking Demonstrations, contact Joyce Logan (203) 671-8403 or email
---